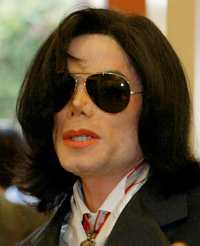 Michael Jackson is stilled pissed off at Eminem's portrayal of him in the rapper's video for "Just Lose It."
Jackson, awaiting trial on child molestation charges, surprised Fox News' Geraldo Rivera with a phone call to complain about the clip which parodies Jackson's legal troubles.
According to the Washington Post, Rivera was simultaneously covering a protest staged by Jackson's fans outside MTV's New York studios in Times Square.
Although BET has banned the video, MTV continues to air the video, which shows the rapper mimicing Jackson with boys jumping on a bed.

Jackson said in the call: "I think that it's demeaning and disrespectful, and I also want to make it clear that it's not just about Michael Jackson but about a pattern of disrespect that he has shown to our community. He needs to stop it and he needs to stop it now."