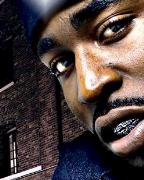 G-Unit member, Young Buck, has been named by ABC News as a suspect in the stabbing of 26 year-old rapper at the second annual Vibe Awards.
The incident happened just as Vibe magazine founder Quincy Jones and Snoop Dogg were in the process of presenting rapper/producer Dr. Dre with a lifetime achievment award. As Dre. waited by the stage, a man approached him in a friendly manner which abruptly turned violent when he punched Dre in the head.
It is believed the assailant was stabbed in the melee that ensued when bodyguards and members of the G-Unit came to Dre's defense.
Video footage taken during the ceremony shows several people shoving each other, fists flying and chairs being thrown around the room as people hurried for the exits.
Santa Monica Police Lieutenant Kathy Keane earlier described the man's assailant as a black male with a white shirt. Today (November 16) the stabber was positively identified on ABC News as Young Buck. As of presstime, authorities are still searching for him.
The stab victim, later identified as Jimmy James Johnson, is in stable condition in a Los Angeles hospital. name has not yet been released, however it was confirmed that he, too, is a rapper.
Sadly, Young Buck, whose real name is David Darnell Brown, was among the night's nominees for best newcomer. His solo debut Straight Outta Cashville peaked at No. 11 on the Billboard 200. G-Unit, which includes Brown, 50 Cent and Lloyd Banks, was named best group at Monday's awards.