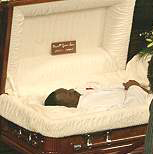 Ol' Dirty Bastard was remembered by family and friends today (November 17) at a Harlem church.

The wake, at St. James Presbyterian Church was open to the public, and will be followed Thursday by another wake and a funeral.

"I grew up in this man's music," said Jason Davis, 25, who traveled to New York from Camden, N.J., to bid farewell to the man born as Russell Jones.

Jones, who would have turned 36 Monday, complained of chest pains, collapsed and died Saturday inside a Manhattan recording studio.

The cause of death remains undetermined.

Among the mourners outside St. James Presbyterian Church was 42-year-old Bernard Minniefield, who said O.D.B. had "never changed" after becoming famous, and was always available to help others trying to break into the music business.

"He opened doors for a lot of people," Minniefield said.

"He was a true artist and he also dealt with a lot of pain in his life," Roc-A-Fella founder Damon Dash said before entering the church. "I think that is a part of artistry as well. And he communicated it through his lyrics."

In related news, Spike TV is holding off on airing a reality show that centered around ODB.

"Stuck on ODB" was filmed last summer and features a contestant ordered to stay within 10 feet of ODB at all times for five days straight.

"Right now things are on hold due to the tragic circumstances," a Spike spokesman said in a statement.