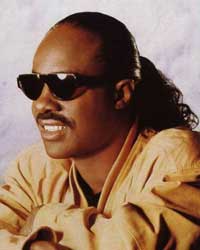 Not one to usually offer public criticism, Stevie Wonder has openly come out against Eminem for ridiculing Michael Jackson in the "Just Lose It" video.

The music icon suggested the rapper was a hypocrite who owed his success to poor and black people.
Wonder also said the late Tupac Shakur was a better rapper than Eminem.

Months ago, Jackson had already come out in his own defense against Slim Shady, whose clip makes light of child molestation charges against the "King of Pop."

In an interview with Billboard magazine, Wonder revealed he was "really disappointed" in Eminem.

"Kicking someone when he's down is not a good thing," Wonder said. "I have much respect for his work, though I don't think he's as good as (late rapper) 2Pac. But I was disappointed that he would let himself go to such a level."

Added Wonder, "He has succeeded on the backs of people predominantly in that lower pay bracket, people of color. So for him to come out like that is bull----."

A spokesman for Eminem was not available for comment.

The song, the lead single from Eminem's latest, and critically panned, album, Encore, is expected to be among the nominees when contenders for the annual Grammy Awards are unveiled on Tuesday.
The next 2Pac posthumous release, Loyal To The Game, is due in December and produced by Eminem.