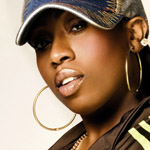 "Get on the bus" is Missy Elliott's catchy theme to her new reality show "The Road to Stardom," which premieres tonight, January 5.

In the vein of "Making The Band," or "American Idol," the show features rap and R&B hopefuls desperate to make it big. Judges include producer Dallas Austin, and classic soul diva Teena Marie, who, along with third judge, manager Mona Scott, have the job of eliminating one of the thirteen contestants each week until there are two for Elliot to chose from. The lucky winner will get a record contract, the promise of a released single, and $100,000.

"You gotta be hot," says Elliot to the camera, " 'cause if you ain't hot, then it's not going down."

Tonight, in an impromptu jam session, the competitors rap about the challenges awaiting them, which includes traveling together "Road Rules"-style on a grungy tour bus. Hopefuls include the Justin Timberlake-like Matthew, the very promising 23-year-old Jessica, who talks about growing up with a crack-addicted mother, Akil (who carries his guitar around everywhere), the beefy Marcus who folks will compare to Ruben Studdard, and the most-likely-to-be-axed Heather, a white Bostonian rapper who wants everyone to take her seriously.

At the end of the hour, Elliot shows up with her lollipop to ask a few questions.

"You're going places," she pronounces to tonight's loser. "Just not with me."