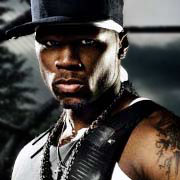 Before unleashing his new album, St. Valentine's Day Massacre, upon the unsuspecting public, 50 Cent, a.k.a. Ferrari F50, recorded about 20 freestyles exclusively for his DJ, Whoo Kid. This week, 12 of them will appear as the mixtape 2050 (Before the Massacre).

The mixtape will feature the album's first official single, "Candy Shop" featuring Olivia, and a remake of Notorious B.I.G.'s "My Downfall" on which 50 raps: "The flow is CPR, I bring Biggie back to life."

"The freestyles are all new. Nothing old," DJ Whoo kid told MTV.com. "We [were] in the studio for two days straight, dirty as f--k. Nobody left, nobody took a shower, just straight freestyles."

What won't be found on the mixtape is "Piggy Bank," which sees 50 dissing Fat Joe, Jadakiss and Ja Rule. "He's addressing people like crazy on the new [mixtape], said Whoo Kid, "but "Piggy Bank" we're gonna save for the next one."

"Right now he's highly unpredictable," Whoo continued, "and I don't know what he's gonna do. This guy is crazy. He's out for everybody's head right now. He's definitely gonna sell his units again. The 10 million mark will be right back.

50 Cent's St Valentine's Day Massacre is scheduled to drop in March and the video clip for "Candy Shop" will hit the boob tube within weeks.

"The album [St. Valentine's Day Massacre] is ridiculous," confided Whoo. "I don't think anybody is gonna be messing with him. He's gonna knock off some heads."