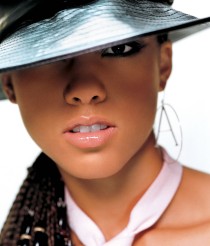 Alicia Keys is scheduled to hit the road for her "Diary Tour" which will hit 34 U.S. cities.
The singer/songwriter/pianist will appear at "intimate venues" and perform selections from her Grammy-nominated sophomore album, The Diary of Alicia Keys.
Keys will be joined by fellow songwriter/pianist John Legend, who will be promoting his December debut Get Lifted.

Supported by cutting edge mobile technology, the Diary trek jumps off in Miami on February 25.

"This tour is going to be completely different completely classy, edgy and fun," Keys said. "Having a setting of maybe 4,000 makes it so much more special and intimate."
The tour will also offer a "mobile fan club" which will include ringtones, beats, and exclusive content. The technology is the brainchild of Swagger Wireless who also supported the Jay-Z and Friends tour, giving fans the opportunity to send text messages appearing on large video screens installed in front of the stage for 30 minutes prior to every show.
The record of over 100,000 messages sent during Jay-Z's tour is anticipated to be surpassed on Keys' outing.
"Based on our previous experience with the Jay-Z tour, we have tremendous confidence... that the Alicia Keys fan base will help us introduce several new applications, and further promote the fact that urban music and fashion trends dominate the mobile market," said Briant Briggs, the CEO and founder of Swagger.
There is also the possibility of the tour generating an accompanying DVD.
"It's going to be like a minimovie when it's all done," Keys revealed.
The 23 year-old, whose debut album, Notes In A Minor, garnered 5 Grammy awards, is nominated for a whopping 8 Grammys this year.
In addition to the smaller venues, the young soul star is also slated to squeeze in a performance at the Super Bowl in Jacksonville on February 6, where she'll play during the pre-game show.
Stops on her tour will include Los Angeles (March 16-17), Atlanta (April 6-7) and Radio City Music Hall in New York (April 22-23).