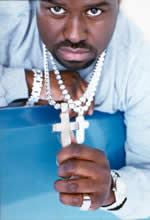 Funkmaster Flex, legendary DJ and host of Spike TV's "Ride with Funkmaster Flex," has inked a deal with the network for a second series bearing his name.
The Funkmaster Flex Super Series," set to premiere on Spike TV Friday, January 21 (9:00-10:00pm ET/PT), is a racing reality show focusing on the goings on at a stock car race which gives opportunity to up-and-coming drivers from all walks of life.
The actual race, "Funkmaster Flex Super Series Invitational," took place last year at the Waterford Speedbowl in Waterford, Connecticut. Drawing diverse drivers from all over the U.S., the competition gave race-heads a chance to compete for a large purse of cash and prizes including Funkmaster Flex's very own 1969 Z28 Camaro. Meanwhile, cameras follow drivers, pit crews, and race organizers behind the scenes.
Many of the drivers were women and other groups not usually associated with auto racing.
"The goal is to expose new groups of people to the world of motor sports," said Funkmaster Flex, "while generating a new breed of racing, new fans, new viewers, and a larger television audience.
The race also featured a performance by LL Cool J and saw Lil' Kim raise the checkered flag. Other special cameos are by Dale Earnhardt Jr., Orange County Choppers, Carrol Shelby, and Damon Dash.
As many as 100 competitors were invited to compete from a field of the top drivers in late model stock car racing or similar divisions. The feature race had 30 starters race for 100 green flag laps.
"We get up close and personal with the drivers, conduct individual profiles, utilize in-car cameras, and create a unique viewing experience for the television audience," said Monica Taylor, Executive Producer, The Funkmaster Flex Super Series. "We are taking the tradition of racing to the next level."
"Ride with Funkmaster Flex," which focuses on celebrities and their various modes of transportation, is in its second year and will continue to air on Spike TV.