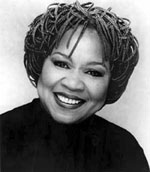 Mavis Staples, singer from the legendary soul group the Staples Singers, recently admitted to having a romantic relationship with fellow music icon Bob Dylan.

In a recent interview with the Minneapolis Star Tribune, the 63 year-old vocalist, known for 1970s classics "I'll Take You There" and "Let's Do It Again," spoke about their secretive trysts in the early 1960s when they would meet up at folk fests.

"We courted awhile," she admitted. "We were an item, but nobody knew it but us."

During that racially turbulent chapter in American history, the Staples family were fans of Dylan's and the respect was mutual. Dylan copied the Staples' version of "Dying Man's Prayer" for his 1962 debut album, after which, the Staples became the first black act to record Dylan's songs when they covered "Masters of War" and "A Hard Rain's A-Gonna Fall" in 1964.

"We were just kids when we met," Staples recalled. "When someone introduced him to us, he said, 'I know the Staple Singers.' And he really did. He listened to us on a station out of Nashville. He said to us, 'Pops, you have the velvety smooth voice, and Mavis, you have the gritty voice.' "

The admiration continued thirty years afterward and culminated in Staples' appearing on Dylan's 2002 gospel tribute album, Serve Somebody, which earned a Grammy nomination for their duet "Gotta Change My Way of Thinking."

Staples' most recent release, the stirring Have a Little Faith, was released in August 2004.