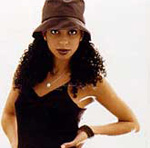 Mya is planning to drop her fourth album,

Control Freak

, this summer, and has re-teamed with Dr. Dre for the occasion.
"It's a combination of a Gwen Stefani," said the "Ghetto Superstar" singer, "because it's energetic, and Lil Jon, very ghetto."
Freak follows 2003's Moodring, which hit No. 3 on the Billboard Top 200. Among the hot singles are "Blame Myself," which Mya says has "very honest, empowering lyrics," and "Escape," which she describes as "grunge-y."
The album sees the 25 year-old songstress reteaming with Dre, and collaborating with songwriter Sean Garrett, who co-wrote Usher's "Yeah."
Mya assures us the work will be intense.
"March is my shutdown month -- nothing but recording," she says. "It will be out in July . . . or September, at the latest."