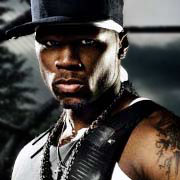 In response to an album leak on Monday, 50 Cent has officially moved the release of The Massacre from March 8 to March 3. Ironically, the date will also see the release of Fat Joe's All or Nothing, which contains a response to 50's dissing of Fat Joe in the now infamous track "Piggy Bank," found on The Massacre.

The event marks one of the few times that a diss track and its corresponding response track may be revealed on the same day.

Numerous websites posted 50's new set and its artwork, forcing the label to move the release date a few days.

50's dis track "Piggy Bank," which takes jabs at Fat Joe, Nas and Kelis and Jadakiss and caused commotion before the leak, has finally been revealed after months of anticipation.

On the cut, an out-of-control 50 raps, "That fat n---a thought 'Lean Back' was 'In Da Club'/ My sh-- sold 11 mil, his sh-- was a dud/ Jada, don't f--- with me if you want to eat/ 'Cause I'll do your little ass like Jay did Mobb Deep."

When first confronted with the rumors of being dissed by the G-Unit top dog, Fat Joe said he'd adopt a wait and see attitude. Now that the track is public, the veteran emcee confirms his response will be on All or Nothing, according to MTV.
Jadakiss responded to the rumors previously, however nothing has been heard from newlyweds Nas and Kelis who 50 roasts by rapping, "Kelis says her milkshake bring all the boys to the yard/ Then Nas went and tattooed the bitch on his arm."

Additional parties could not be reached for comment as of press time.