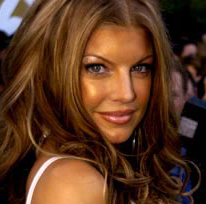 Black Eyed Peas singer, Fergie, recently promised to kill Paris Hilton, who inadvertently caused Fergie's phone number and email to be leaked onto the Internet when hackers published the contacts of her Blackberry.

Like many of Hilton's high profile contacts, Fergie has since received a barrage of unwanted correspondance. According to MTV, the vocalist was overseas shooting the Peas' new video for "Don't Funk With My Heart" when her cell phone started blowing up around 6:30 a.m. She thought the calls were from the set, admonishing her for running late.

"I don't get calls at that time, unless it is one of my friends who has had an all-night bender," she revealed. "So I answer the phone, 'Oh, I'm going to be there, I'm going to be there.' And it's these people calling, and I'm going, 'Wrong number, wrong number.' Finally, someone tells me, 'I think your phone number is on the Internet.' "

When she realized what happened, Fergie was furious.

"I am going to kill Paris Hilton," she told MTV Europe. "I'm getting all these perverted phone messages, thank you very much. I'm getting all these types of e-mails, positive and negative. Those who don't like me, thank you very much as well."

Fergie, like many others, has been forced to change all of her phone numbers.

Other exposed celebs in Hilton's address book, included Eminem, Jay-Z and Russelll Simmons.

Hilton has since issued an apology to all her friends in US Weekly.