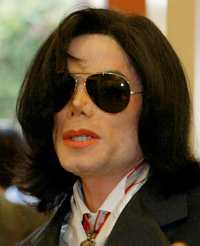 During a recent interview with the Reverend Jesse Jackson, Michael Jackson claimed he was the victim of a conspiracy and compared his plight to international human rights hero Nelson Mandela.

"Mandela's story has given me a lot of strength, what he has gone through," Jackson said.

The pop icon has been praying with the Rev. Jackson daily during the course of the trial, and spoke over the weekend on the Reverend's Internet radio show, calling the trial the "lowest point emotionally" of his life.

During the hour-long Internet broadcast, Jackson professed his love for fans of "every nationality, every race, every language," and said, "I would love your prayers and your goodwill, and please be patient and be with me and believe in me because I am completely, completely innocent."

The singer who now resembles a white woman due to years of radical plastic surgery and alleged skin bleaching, claims his current child molestation trial is the result of racial profiling. He also suggested his troubles are in part the result of his now 50 percent stake in a highly profitable catalog of music copyrights, including many songs by the Beatles, Elvis Presley and Little Richard.

"It's a huge catalog, it's very valuable and it's worth a huge amount of money, and there is a big fight going on right now as we speak about that," he said. "There's a lot of conspiracy going on as we speak."

When Rev. Jackson asked him to elaborate, Jackson said he could not because of the gag order.

Jackson claims rumors of his alleged bankruptcy are also part of the smear campaing.

"That's not true at all," he said. "That's just one of their many schemes to embarrass me and to just drag me through the mud. It's like a feeding frenzy, just because of my celebrity. The bigger the celebrity, the bigger the target."