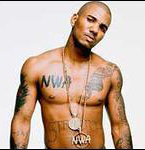 "Retired" rapper and current Def Jam president Jay-Z was the highlight of Hot 97's annual Summer Jam concert, however it will be The Game's performance that most people will talk about.

Introduced by Kanye West, the unexpected Jay-Z performance began with the crowd of 50,000 inside Giants Stadium erupting into spontaneous applause. After reveling in the long-lived adulation, Hova went on to perform hits such as "Public Service Announcement" and "Encore" from The Black Album. The crowd's energy was in high contrast to the response to the previous display from The Game, who used his set to attack former colleague 50 Cent.

Game, dressed in a Mets jersey and carrying a baseball bat, continually barked the phrase "G-g-g-g-u-not!" and yelled curses at 50 Cent and the entire G-Unit crew.

The vitriol, which included the beat-down of a rat mascot wearing a G-Unit tank top, and identified by Game as "My n***a 50 Cent," is the latest chapter in the once-squashed feud between 50 and Game which saw the latter get booted from the G-Unit click.

The two had supposedly kissed and made up, but Game's performance has put all hopes of peace to bed. The Compton emcee, who only months ago joined 50 Cent in contributing money to Los Angeles schools, summed up his true feelings by whipping his G-Unit necklace into the crowd.

50 Cent, who was booed during his performance during last year's Summer Jam, is expected to retort on his upcoming Anger Management tour.

Summer Jam, now in its 12th year, will air June 24 on Fuse at 9pm EST.
More Headlines
• Young Buck To Stand Trial For Stabbing
• Biggie Smalls Murder Informant Admits His Info Was 'Hearsay'
• Eminem, 50 Cent Bring Anger Management To Europe
• Fan Claims Snoop Dogg Beat Him During Concert
• 50 Cent Sues Video Production Companies
• 50 Cent, Mariah Carey, Jay-Z, Lauryn Hill, More Unite For Live 8
• Tupac's Mom Readies Arts Center Dedicated To His Memory
• Nelly Goes 'The Longest Yard' With New Album And Movie
• Fat Joe, T.I, Others Team Up For MTV2 $2 Bill Concert
• P. Diddy Teams Up With HBO For 'Bad Boys'
• Eminem On Tentative Roster For Live Aid 2
• Jay-Z's Lawsuit Against R. Kelly Gets Thrown Out By Judge
• Miri Ben-Ari Performs In Off-Broadway Play
• Eminem Helps Rebuild 8 Mile Road
• DMX Sued For Paternity
• 50 Cent Escapes Jail By Copping Plea Deal
• Public Enemy Brings The Noise In New DVD
• Black Eyed Peas Give 'Monkey Business' Sneak Peek
• Wendy Williams 'Brings The Heat' With New Album
• DMX, Others To Appear On Ryde or Die Vol. 4
• Lil Kim Denies Allegations That She Cheated Employees Out Of Pay
• Ludacris Preps 'Red Light District' DVD, Appears In 'Crash'
• Jay-Z To Design Formal Wear
• Jay-Z Seeks Intern, Remakes 'The Takeover'
• More News