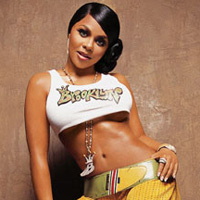 Grammy award-winning artist Lil' Kim has been sentenced to 366 days in prison and fined $50,000 for committing perjury to protect friends involved in a 2001 shoot out.

The rapper whose real name is Kimberly Jones originally faced up to 20 years - five years each on three counts of perjury and one count of conspiracy.
The Brooklyn native issued a statement two hours after the verdict.
"I would like to thank all of my supporters who have stood by my side throughout this entire ordeal. The many prayers and hundreds of letters of support, e-mails and kind words that have poured in have been overwhelming and critical in helping my family, loved ones and myself stay strong during this time of need. Today was a very difficult day for me, but I am no stranger to adversity and will do whatever I need to do so that I can continue to work hard and give back to my family, amazing fans and community."

The Queen Bee also has the distinction of being the first platinum selling female rapper to serve prison time.

Lil' Kim, who turns 30 next week, received support from a handful of fans outside the courthouse Wednesday as she arrived with bodyguards to receive her sentence.

There is no word yet as to whether she'll appeal.

As previously reported, the charges stemmed from a 2001 shooting incident outside New York's notorious radio station Hot 97 that involved Capone-N-Noreaga.

Lil' Kim told the grand jury she did not notice two of her close friends at the scene of the shootout - her manager, Damion Butler, and Suif Jackson, known as "Gutta." Both men have pleaded guilty to gun charges.