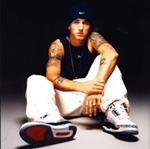 Eminem is planning to quit rapping, according to his hometown newspaper the Detroit Free Press.
Citing sources close to the 33-year-old rapper, the paper reported Friday that Eminem, real name Marshall Mathers, will make his last solo performance in Dublin, Ireland on September 17, and that his current album Encore would probably be his last before he becomes a full-time producer.
The Detroit emcee has sold more than $1 billion worth of records since 1999.
"Marshall feels he's said everything he can say as Eminem," one insider was quoted as saying. "The idea that he intended [Encore] to be his last record is something that everyone on the inside circle has known for a while."
Another source said 2004's Encore was a difficult record for the artist to make. "Marshall really struggles to write for himself now, to speak through the voice of Eminem," the source said.
The newspaper also quoted his manager, Paul Rosenberg, as saying no official decision had been made about Silm Shady's future, but Encore is "certainly the cap on this part of his career."
The newspaper also went on to say that Eminem is tired of the life of a rap superstar and may have maxed out his rap creativity.
Mathers' spokesman at Interscope Records in Los Angeles could not immediately be reached for comment.
"We didn't go into this for the celebrity thing. We were never looking for that," said Mark Bass. He and brother Jeff signed Em to their production company, 8 Mile Style, which forged the deal with Interscope.
"As much as he caters to his fans, this has always been about putting food on the table," Bass said. "And he knows the right thing to do to make sure that happens. If that's moving into producing 50 Cent and the other new artists he's handling, then that's what it is. He's a smart guy. He knows what he's doing."
Eminem mentor Dr. Dre took a similar road, when upon reaching his 30's he put down the microphone and became a production force to be reckoned with.
The paper also pointed to a slew of creative clues pointing to Eminem's demise as a rapper.
The cover shot on Encore shows Mathers taking a bow. The closing song is "Curtains Down."
In the album's liner notes, and in his current concert tour, Em plays up the figurative death of himself as a rapper, as if Marshall Mathers is killing the Eminem persona.
"This is how you go out with a bang, baby," he says in one video," after pulling the trigger of a pistol that misfires on himself.