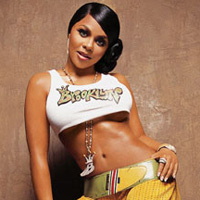 Two weeks after receiving a 366-day prison sentence for perjury, Lil Kim (aka Kimberly Jones) has won a temporary restraining order against Lil' Cease and Junior M.A.F.I.A.
As part of a Federal lawsuit filed by Kimberly Jones AKA Lil' Kim, Cease, whose real name is James Lloyd, as well as other members of Junior M.A.F.I.A. and Ground Zero Entertainment will be prevented from unlawfully using Lil' Kim's name, likeness, image and property rights without her consent.
The motion was filed in a New York Federal Court and received approval by the judge in less than 24 hours.
"We are legally and ethically required to defend Ms. Jones," stated Kim's lawyer, L. Londell McMillan in a statement. "This action is to protect her property rights and brands against unauthorized use. We expect other similar actions will follow."
According to the same statement, the suit will seek legal relief, injunction and damages from Ground Zero Entertainment and Lil' Cease "for their unauthorized use, exploitation and dissemination "of a DVD entitled "Chronicles of Junior M.A.F.I.A." The unauthorized DVD was released by Ground Zero Entertainment last year, and featured Lil' Cease narrating his trials and tribulations in the music industry. Included was footage of Lil' Kim as well as the late Notorious B.I.G., Sean "P. Diddy" Combs.
The suit also alleges that Lil' Cease and other Junior M.A.F.I.A. members have publicly spoken about their plans to release a sequel to the first Chronicle of Junior M.A.F.I.A. which will see them revealing details of their federal subpoena and testimony against Lil' Kim in her perjury trial.
The Federal Court has set a hearing date of late July 2005 for a permanent injunction and other further legal actions against Lil' Cease, other members of Junior M.A.F.I.A. and Ground Zero Entertainment.