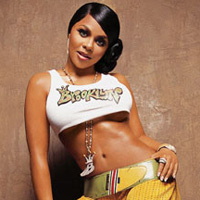 Grammy award-winning rapper Lil' Kim is slated to report to prison today to start serving a 366 day prison term for committing perjury to protect friends involved in a 2001 shoot out.

The rapper whose real name is Kimberly Jones originally faced up to 20 years - five years each on three counts of perjury and one count of conspiracy. In addition to the sentence, she was also fined $50,000.
At the last minute, though, it was revealed that instead of serving her term in a real prison, the Brooklyn fashion plate will be housed in a federal detention center.
"I have unfortunately been assigned to a federal detention center instead of a prison camp as discussed, in the City of Philadelphia," Kim said in a statement. "I am not certain that this constitutes fair & equal treatment."
Many wonder how the artist used to ice and tight weaves, will fare behind the wall. The Queen Bee seems pretty strong, though, so far.

"Today begins a new saga in my life which I expect to strengthen me and allow me time for reflection," she continues. " I am blessed to have so many great things in my life - family, friends, and God. All will be in my thoughts daily. I plan to write music while in prison, read and pray regularly and will come out a stronger, more confident woman."

Since her sentencing, Kim has been working hard to record and promote her next album, originally scheduled to drop on September 13, just six days before her sentence was to begin.

"I will write many of my fans, and expect the "Lil Kim" brand to be even bigger when I come out - I am just getting started in my career," she concluded. "My fourth solo album, The Naked Truth, comes out next week on September 27th, and I have much more planned. Thanks to all for their thoughts and prayers...and I will see you soon."